Guidelines for Teaching
As likely the only course that undergraduates will take devoted primarily to improving their writing, WRIT015: Writing and Culture Seminar provides students with opportunities to connect their writing with critical reading and thinking, inquiry, and analysis. Faculty will organize sections of WRIT015 around cultural themes, selecting readings and designing assignments that will engage students with compelling questions and problems. The primary focus of the course is writing, and course titles, descriptions, and syllabi should articulate this and describe how the course readings support students' writing. Readings should provide motives, models, and examples for analysis and writing.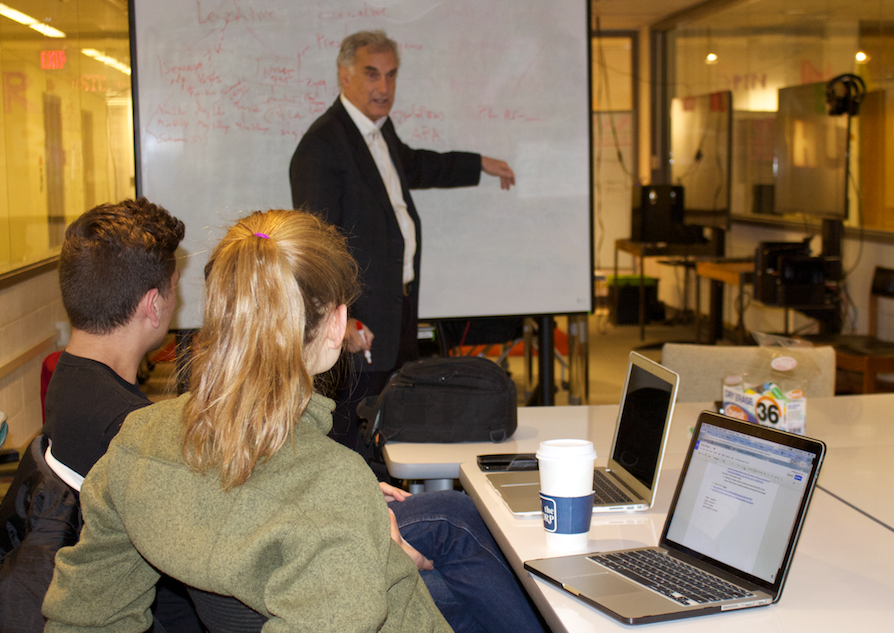 WRIT015 approaches writing through three interrelated frameworks: inquiry, process, and rhetoric. Regardless of thematic focus, students in all sections of WRIT015 should
Faculty are also encouraged to incorporate one or more high-impact practices.
Use writing as a tool for inquiry
Writing is not only a means to represent one's knowledge and understanding but also an essential practice for discovering and integrating new ideas. We can support students' appreciation for and ability to use writing as a thinking practice in any of the following ways:
Assign informal writing, such as journals, in-class writing, blogs, or other forms
Ask students to frame questions about texts and/or themes, either in preparation for class discussions or as part of the process of developing their own inquiries and papers
Suggest prewriting strategies to help students begin to articulate the ideas they will later develop into more formal essays and arguments
Practice writing as an iterative process
Writing is not one activity; it is a multifaceted, reiterative process. In the process of writing any kind of text, writers may generate ideas, gather evidence, consider their purposes and audiences, make choices about form and language, plan and create a draft, consider feedback from readers, and revise. We can help students gain facility with these practices in any of the following ways:
Provide guidelines for projects that explicitly engage students in various aspects of the writing process
Provide feedback, in writing or in conversation, on students' work as their projects evolve
Scaffold assignments incrementally, so that a series of short writing tasks across the semester develop material for a larger project due later in the term
Practice specific strategies in class, such as exercises with using language in varied ways, constructing outlines, or identifying the choices made by the authors of course readings
Give students opportunities to consult with their peers at various moments in the writing process, including discussions of ideas and strategies as well as reviews of outlines and drafts
Ask students to document the development of a project, such as in a portfolio or a memo about their writing process
Ask students to document their development as writers over the course of a semester, through a course portfolio or a self-evaluation
Approach writing as a rhetorical practice
"Good writing" takes many forms. In order to write effectively, writers must think strategically about their rhetorical situations. Depending on context, purpose, and audience, writers make choices about content, style, and form. To do this well, writers must not only deploy this kind of strategic analysis, they must also have the flexibility to adapt their use of language, their approach to subjects, and the structure of their writing. This kind of rhetorical awareness can also help readers understand and interpret texts. We can help students develop both intellectual habits and textual agility in any of the following ways:
Use readings to help students develop their ability to think rhetorically by analyzing texts from multiple genres that were written for varied contexts, purposes, and audiences
Invite students to compare texts from different contexts or in different forms, identifying the strategic choices made by the authors and considering how different ways of writing construct meaning and affect readers in distinct ways
Ask students to write in several different forms and styles and for both traditional and digital technologies
Ask students to analyze their own writing situations, in this course and in others, including thinking about the different conventions, structures, and styles used in varied contexts
Ask students to articulate the choices they are making as they develop their papers
Incorporate high-impact practices
The American Association of Colleges and Universities has identified a range of high-impact practices (new window) that are especially effectively in engaging students and promoting learning. In order to facilitate student engagement and learning, faculty teaching the WCS are encouraged to incorporate one or more of the following practices:
Build inquiry and research projects around questions and problems that engage students, including work with varied sources and research methods
Require students to track and comment on the development of their own work in paper or digital portfolios
Link writing assignments to co-curricular experiences, such as service learning or community-based inquiries
Ask students to write for real audiences outside of the classroom, such in cross-cultural dialogues and writing for public audiences
Help students learn how to successfully complete collaborative writing projects
Develop learning communities that connect students across multiple sections in exploring shared themes or texts